OncoFAP is a small molecule radiotracer with ultra high affinity for Fibroblast Activation Protein (FAP). The product is suitable for the non-invasive detection of a variety of metastatic solid tumors, as FAP is overexpressed in more than 90% of epithelial cancers (e.g., malignant breast, colorectal, ovarian, lung, skin, prostate and pancreatic cancers, as well as in some soft tissue and bone sarcomas).
The OncoFAP product consists of a (i) small organic ligand targeting FAP, (ii) an innovative spacer structure and (iii) a DOTAGA chelator.
OncoFAP displays best-in-class performance both in vitro  and in vivo with the highest reported affinity to the FAP antigen. In preclinical models of cancer, the product has shown a very rapid and selective accumulation in the tumor mass with an exceptionally low kidney uptake.
Thanks to the pan-tumoral potential of the ligand, OncoFAP-68Ga is being developed for the imaging of different tumor entities, while OncoFAP-177Lu is developed for radio ligand therapy for FAP-positive tumor types .
ONGOING CLINICAL TRIALS
Two randomized, controlled phase III registration trials for intralesional application of NidlegyTM as a neoadjuvant followed by surgery + eventual adjuvant treatments (standard of care) and compared to standard of care are currently ongoing in Europe (NCT02938299) and in the USA (NCT03567889) in patients with fully resectable stage IIIB/C melanoma.
A phase II trial in non-melanoma skin cancer (i.e., high-risk patients with Basal Cell Carcinoma and Cutaneous Squamous-Cell Carcinoma) (NCT04362722).
ONGOING CLINICAL TRIALS
OncoFAP-68Ga has recently entered in a first-in-man imaging study in patients with advanced solid cancers
Additional studies with OncoFAP-68Ga (Imaging) and OncoFAP-177Lu (Therapy) are about to start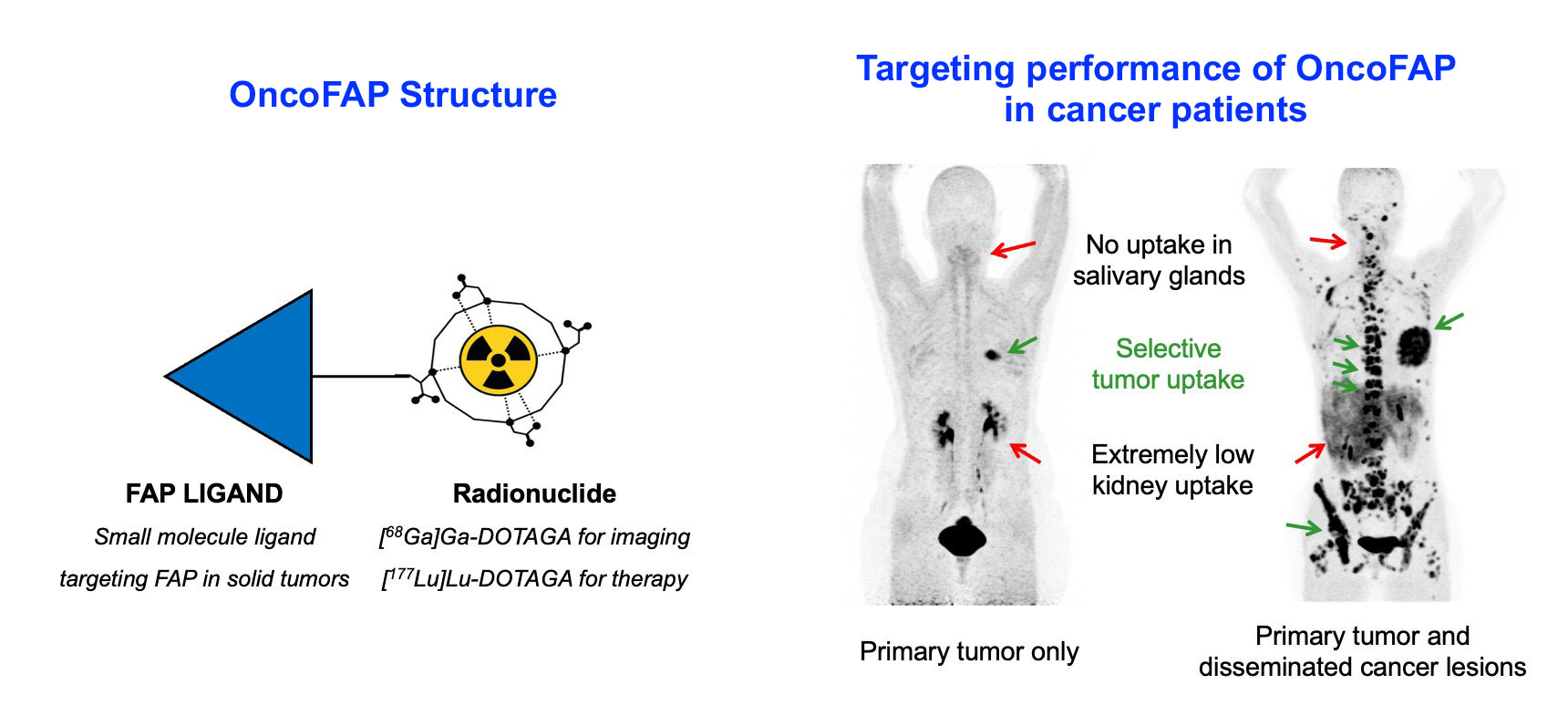 References
Puglioli et al. (2022) Chem, doi: 10.1016/j.chempr.2022.10.006
–
Galbiati et al. (2022) J Nucl Med, numed.122.264036
–
Backhaus et al. (2021) Eur J Nucl Med Mol Imaging, 10.21203/rs.3.rs-969176/v1
–
Millul et al. (2021) PNAS, 118, 16, e2101852118